Our Aim is to bring people together, to work side by side while sharing perspectives and fostering cultural understanding. We hope participants return home with a deeper understanding of how communities are affected by adversity and poverty and that this will inspire them to carry on making a difference" ~ Bhupendra
Volunteering is about giving your time, expertise and energy to help affect change in the lives of a small community. However this is not a one way process; you will learn the ways of another culture, perhaps pick up another language and make new friends, coupled with the sheer feeling of accomplishment that you get by lending a helping hand to people that are less fortunate than yourself.
Kamla Foundation, together with our partners in India can offer the opportunity to participate in the following projects:
Women
Due to the existing social, cultural and economic system many women in rural India are deprived of basic human rights. Violence against women and rape are common. Our work centres on empowering these vulnerable women by delivering a comprehensive package of support. e.g. leadership and capacity building, training in women's rights and responsibility, microcredit and developing Cooperative Groups for campaigning and income generation activities.
As a volunteer, you have the option of working with these women to gain knowledge, skills, awareness of their plight and help raise confidence. You may work on several programmes in education, health, training, exploitation etc. Preparing and delivering essential programmes, evaluate their plight and recommend necessary provisions for the establishment of equality and general women empowerment.

Water management
Providing clean drinking water by installation of hand pumps is seen as essential for survival in rural areas. This project aligns well with our dual goals of assisting to reduce rural poverty and improve their wellbeing. We have installed bore wells benefitting up to a thousand villagers per bore well.
Beneficiaries of these wells have reported a dramatic decrease in water-related diseases once the hand pumps go into action and it has slashed the time required by the local women to fetch their daily water. Where we are unable to install a bore well we distribute aqua filters which enables the villagers to turn polluted water into safe clean drinking water. Volunteers are invited to engage with the process of installing a bore well. From initial consultation with community leaders, identifying appropriate site through to the installation of a hand pump.

Health
Our partners work with hospitals and clinics in many rural villages of India. The medical centres in these locations are understaffed, lack resources and need proficient hands to help the medical team on a daily basis. Many hospitals, in cooperation with local communities, conduct health care programmes on basic prevention, nutrition and sanitation.
Volunteers will have the opportunity to assist with these programmes. Your contribution will depend on your expertise and knowledge. Qualified Doctors and Nurses can perform routine daily treatment of various diseases and counselling patients about first aid and prevention. Medical students work under the supervision of qualified medical personnel.

Elderly and Disabled
We support a Widows Home and a Home for the Disabled in South India. You can use your energy, skills and time to brighten the day for the elderly and disabled people in these Homes. This project warmly welcomes those who have love, respect and compassion for the old and infirm and want to help make a positive difference to their lives.
Many of the elderly Widows need mental as well as physical stimulation and indeed appropriate care. The Homes provides shelter, care, therapeutic aid and counselling. Other support activities may include entertain, reading and creative arts. You are encouraged to share any useful skills you feel appropriate. You can also help with delivering therapeutic activities and related care.

Skills Required
What the Foundation seeks in a Volunteer is enthusiasm, motivation and a desire to help make a genuine difference. We seek committed individuals to help strengthen our projects and programmes, so a willingness to learn and work is required. Having an interest to work for the benefit of the poor, marginalised, disadvantaged and vulnerable communities and to the development of their skill set, knowledge and competence is essential.
It's a physical and emotional experience and volunteers hopefully come away knowing a great deal more about themselves than they did beforehand.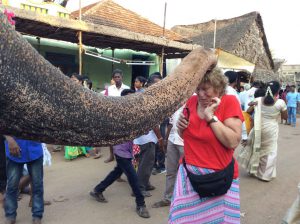 Come and be a part of a life changing experience!
You really can make a difference.
Read the experiences of some of our volunteers