Together we are giving people not just a new smile, but a second chance at life"
The Medlife Foundation is an inspirational medical charity based in the State of Gujarat, India. Our partnership is born out of a mutual ideal that good healthcare should be available to all, regardless of wealth. Together, we work on a set of shared values, helping to identify, support and change the lives of some of the most vulnerable in Indian society by performing free cleft lip and palate surgery. A cleft lip, sometimes referred to as a 'harelip', is an opening in the upper lip that can extend into the base of the nostril. A cleft palate is an opening in the roof of the mouth.
In conservative rural societies, where looks can seem to be of paramount importance, 'looking different' can cause a severe sense of insecurity and inadequacy. People with unrepaired clefts are often viewed as outcasts and ostracised. Cleft children are often bullied which can lead to a lack of confidence. They will never know the simple joys that we take for granted, like going to school, making friends or earning a living.
By resolving facial birth defects, we are performing life-changing operations; helping vulnerable families overcome prejudice. In turn, reducing the number of family breakdowns caused by the deformity and supporting the mother who usually carries the burden of such defects. Our collaboration has enabled Medlife Foundation to significantly scale up its activities and in turn become more responsive and improve its reach.
Meet Kinjal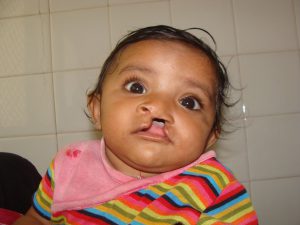 Kinjal Meghnathi is a girl aged 7 months and was born into a life of abject poverty. Her mother is a housewife and father a seasonal agricultural labourer. Soon after her birth, the parents became aware of her cleft lip and were very concerned about views of the wider community. Due to illiteracy, entrenched traditional values and living in a rural conservative society, they thought the child was cursed and they would be stigmatised and shunned by their family and wider community.
After counselling and re-assurance they came along to a rural camp hosted by the Medlife Foundation. Here they were given further advice and support and after examining Kinjal, the parents were encouraged to register her for the free life changing operation. The parents are now ambassadors for our work and helping us to reach out to more vulnerable people.
We firmly believe that everyone deserves to live their lives with dignity and for those born with a cleft lip, cleft palate deformity, dignity begins with a smile.
Sponsor a Cleft lip operation for – £180
Sponsor a Cleft Palate operation for – £195